Why would you want to get a facial ?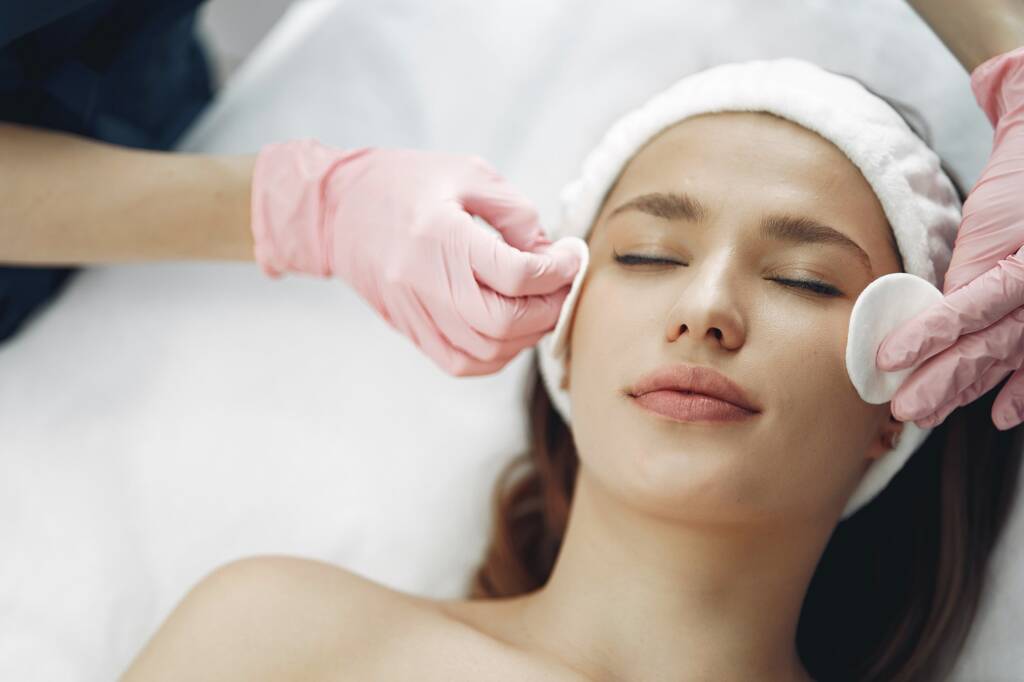 Our face is our mirror. The skin's type and condition vary from one another. Some people have excess sebum and comedones (blackhead) and wish their skin was less shiny and their skin tone brighter and uniform. Some people have acne lesions (papules and pustules) and need to be decongested as well as profoundly cleansed.
On the other hand, there are people with dry and dehydrated skin, and people whose skin have started to age prematurely and wrinkle. In all cases, there are many different types of facials for your skin. All you need to do is specify to your beautician what are your expectations are, and she will do all her best to satisfy your needs. We consider it is a team work that is constantly evolving.
Results are quick and efficient and the care experience is very comforting. Your beautician will be more than happy to offer you a feet and hands massage while you relax with your beauty mask in order for you to live a very relaxing and enjoyable moment.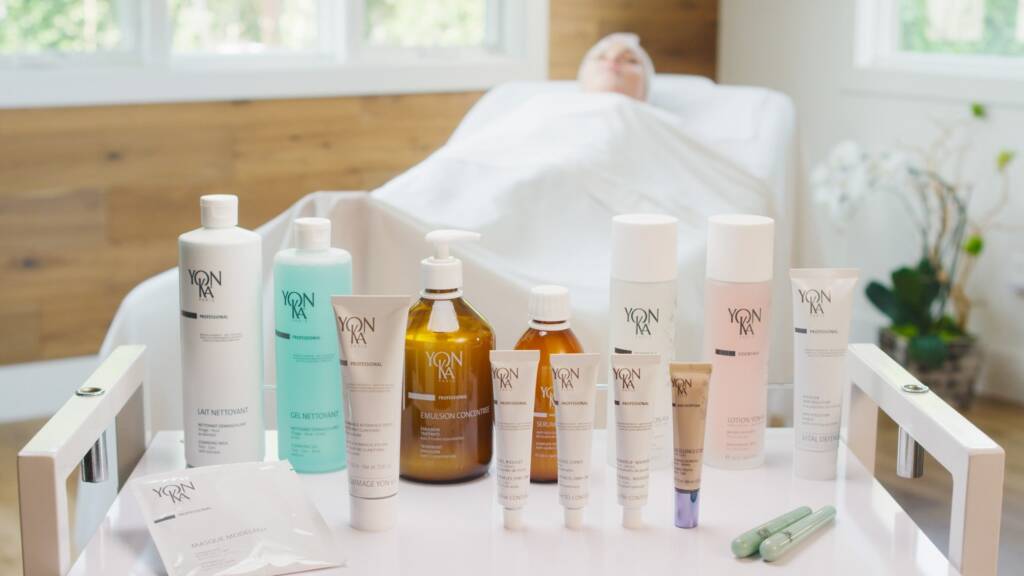 Beauty stopover
A beauty treatment designed to provide your skin with vitamins and help you restore instant radiance. A short but evolving trip in Mediterranean scents and citrus odors. Your skin will be purified, tonified and hydrated and you will feel a sense of fullness.
The great classic
For all skin types and ages. A profound cleansing in five successive steps in an oxygenating ambiance filled with Yon-Ka essential oils. We recommend you do it on a monthly basis to maximise your skins 'health level.
Citrus pleasures
Delightfully aromatic, this face care is a unique moment for dreaming and escaping. It is also the best treatment to look younger, eliminate tension and restore a radiant glow. This treatment subtly combines lavender, rosemary and thyme essential oils and the hydrating and energising power of citrus. Get a very relaxing face massage without the inconveniences of extraction. A pure aromatic pleasure.
Vital defense
Viewed as a shield treatment, Vital Defense is recommended to young people (25 to 35 years old) in order to fight the premature skin ageing caused by climatic and pollution aggressions. Ideal for devitalized skins, for those whose skin tone is uneven, for smokers and for city people who are permanently subject to pollution. Result: A skin that breaths vitality.
Hydralessence
Your skin is dry, dull, rough and showing fine lines. It's a call for help. This very performing treatment will quickly restore its softness and flexibility. What is the secret? The powerful and soothing action of fruit and algae extracts with an essential oils aromatic haze. Choose the Hydralessence care as soon as your skin starts to show dehydration signs.
Alpha-Vital
Is your skin looking tired? This anti-age treatment will highlight your skin's natural glow. After the very first treatment, the skin is restored and looks young. A series of four treatments helps to reduce visible signs of ageing. The action of the fruit acids controlled with a highly concentration contributes to intensify the cellular renewal, brightens the complexion and diminishes fine lines and wrinkles.
Optimizer
This care is a genuine personal trainer for your skin. It optimises skin's natural firmness and regeneration. Filled with active ingredients: hibiscus and lupine peptides, hyaluronic acid and collagen that reinforce the skin's structure and use the coenzyme Q 10 to protect the skin cells against radical attacks. Results: a visibly younger skin, firmer and smoother. The Optimizer care redefines the face contour. Available in our clinic for a spectacular lift!
Price List
| | |
| --- | --- |
| Beauty stopover – 35 minutes | 50 $ |
| The great classic – 90 minutes | 95 $ |
| Aromatic pleasure – 60 minutes | 95 $ |
| Hydralessence face – 90 minutes | 120 $ |
| Alpha-vital – 60 minutes | 120 $ |
| Optimizer – 75 minutes | 150 $ |
| Vital-Defense – 60 minutes | 99 $ |
| Excellence code – 75 minutes | 160 $ |
* Prices are subject to change without notice.

ATTENTION: The time entered for each facial treatment is subjective depending on the client's skin condition.
---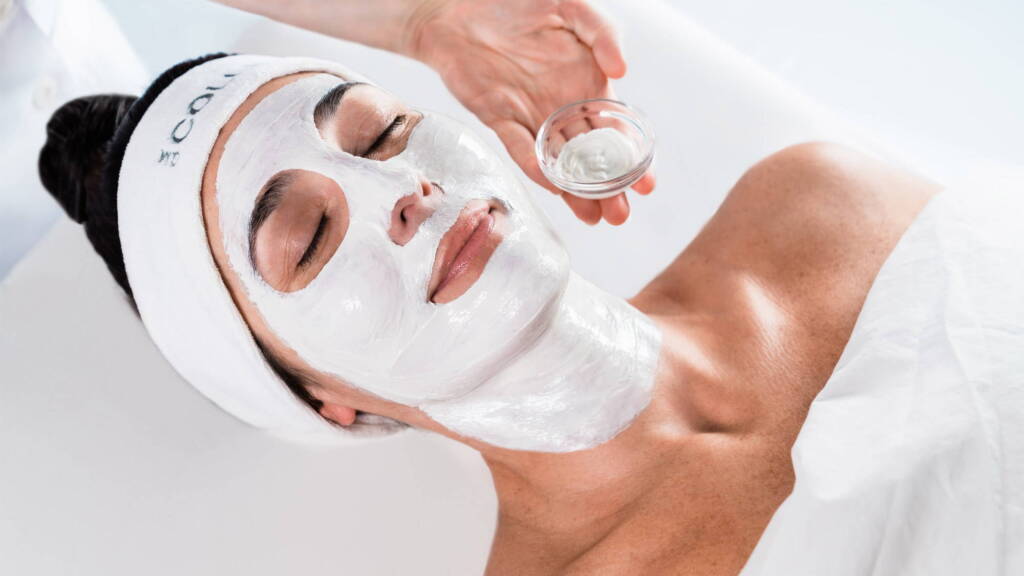 Puroxygen
This revolutionary and oxygenating care is designed to clear skin congestion, treat oily skin, control acne and revitalize tired, stressed and tern skin. This five steps treatment is formulated with a unique oxygen complex, patented anti-microbial peptides and probiotic actives. This care reinforces skin's natural defense, revitalizes, removes shine and normalises in depth. Perfect for teenagers, smokers and people who need a very good skin cleansing.
*We recommend five weekly treatments for optimal results.
Peeling AHA
(Glycolic, Lactic, Salicylic or Derm-Renewal)
Professional treatment that combines a performing high-technology patented complex, offering the full benefits of AHAs without the sting. Moreover, this treatment fosters skin's regeneration and hydration. Benefits: brightens the complexion, detoxifies and lightens pigmentation spots.
Teenager's basic care
This facial is recommended for clients who are not familiar with beauty salons or for younger teenagers who wish to receive a basic care for treating minor skin imperfections, illuminate and moisturize the skin. Suitable for all skin types.
Algomask
This enriched treatment provides immediate and long lasting hydration. Its therma-cooling effect on the skin makes it a remarkable decongesting treatment ideal for sensitive, rosacea, couperosed and acne prone skin.
Benefits: provides instant radiance by hydrating, soothing and brightening the skin while minimizing redness.
Sea C Spa
Super antioxidant and anti-age treatment designed to reduce visible signs of ageing and bring skin alive. Made with marine and vegetal active ingredients (Vitamin C concentrate, algae biomatrix patches and thermal organic mud), this treatment is exceptional for both pre and post sun exposure, reduces the appearance of lines and wrinkles, evens out the skin tone and illuminates the skin restoring its youthfull appearance.
Collagen 90+
With age, cellular renewal (a natural process) slows down. Skin loses its moisture and becomes more sensitive to negative environmental factors, loses its natural elasticity and its capacity of support. G.M. Collins offers an exclusive and original concept that combines pure native lyophilised collagen with some ingredients that diminish the appearance of wrinkles and fine lines. Collagen 90+ is an intensive anti-age cure that hydrates, invigorates the skin and offers it beneficial moisture while reducing visible signs of ageing.
Hydrolifting
A clinical care in four steps for all types of skins. An Intensive firming treatment ideal for special events such as weddings or public discourses. Benefits: immediate lifting and intense skin moisturizing. Formulated to exfoliate, deeply rehydrate, restore, lift and firm the skin for instant radiance and enhance skin tone.
Price List
| | |
| --- | --- |
| Peeling AHA – 20 minutes | 50 $ |
| Teenager's basic care – 50 minutes | 80 $ |
| Puroxygen – 60 minutes | 99 $ |
| Algomask facial – 60 minutes | 109 $ |
| Sea C Spa – 60 minutes | 150 $ |
| Collagen 90+ – 90 minutes per unit | 175 $ |
| Collagen 90+ – in a 5 treatments cure (unit) | 150 $ |
| Hydrolifting – 60 minutes | 135$ |
* Prices are subject to change without notice. All our prices do not include taxes
---