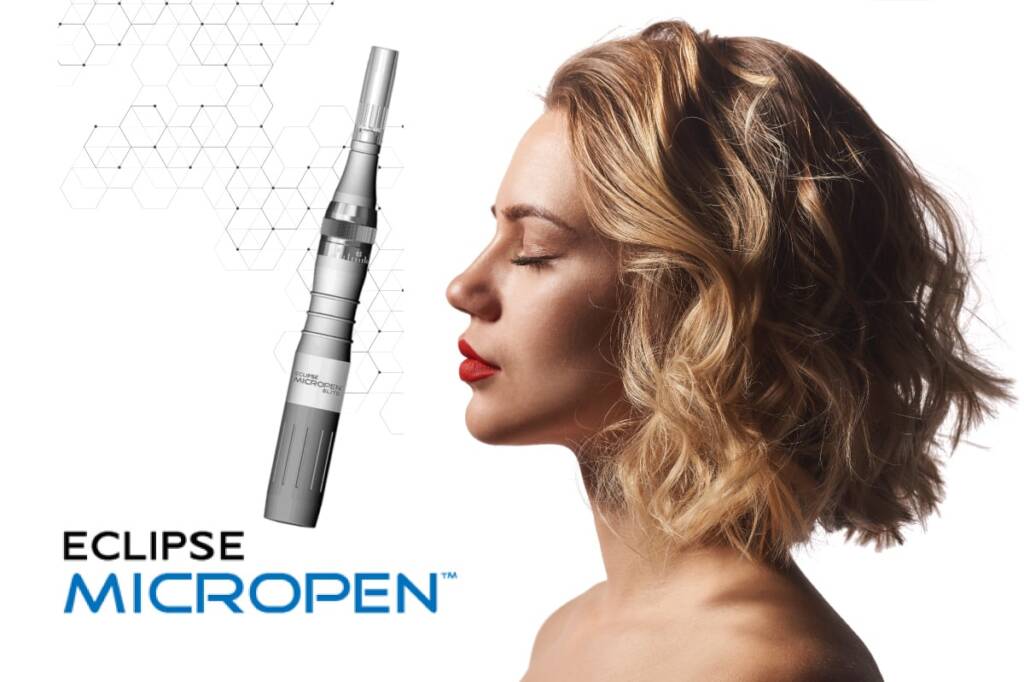 Microneedling  is a procedure by which micro-needles perform controlled and precise micro-perforations on the skin, thus creating micro-trauma to the skin. The skin repair process is then triggered, stimulating the production of collagen and elastin. The Eclipse Micropen also forms micro-canals promoting the absorption of topical gels, creams and serums, enhancing the effects in the deepest layers of the dermis.
The Eclipse Micropen treats:
Fines lines and wrinkles
Age Spots
Photoaging
Sagging Skin
Acne scars
Large Pores
Stretch Marks
Scars
Texture, Complexion
Alopecia
What areas of the body can I treat?
The Eclipse Micropen can be used on several parts of the body: the face, the neck, the décolleté, the arms, the hands, the legs, the abdomen and the back.
How does the procedure take place?
Your skin professional will first apply a saline solution (Hyaluronic Acid) to the surface of your skin. The depth of the needles will be adjusted according to the treated area. The Micropen will be gently placed on the skin and slid over the skin in a single movement, until it covers the entire area.
What does it look like?
Certain areas may be more sensitive for some patients. However, the speed at which the needles penetrate the skin makes the treatment more comfortable.
How long is the treatment?
The procedure lasts between 1h and 1h30 depending on the area treated.
Benefits:
Fast treatment
Effective
Secure
Minimum rest time
Minimal discomfort
What is the rest time?
Immediately after the treatment, you will notice a bright redness on the skin. The healing time may vary from patient to patient. On average, the redness disappears after 24 hours. For some patients, it will take 1 to 3 days. Appropriate post-treatment products can help the healing process.
When will the results be visible?
You will notice an immediate "shine" from the first treatment. Results will continue for 4 weeks after the treatment, as collagen and elastin will continue to be produced by fibroblasts during this period.
How many treatments will be needed?
For best results, it is recommended that you receive 3 to 6 treatments every 4 weeks to treat a specific skin condition. Thereafter, it is recommended to receive treatment approximately every 6 months for maintenance and to maintain healthy skin.
| | |
| --- | --- |
| 1 Treatment of Microneedling | 349 $ |
| 3 Treatments of Microneedling | 867 $ |
* Prices are subject to change without notice. All our prices do not include taxes
---